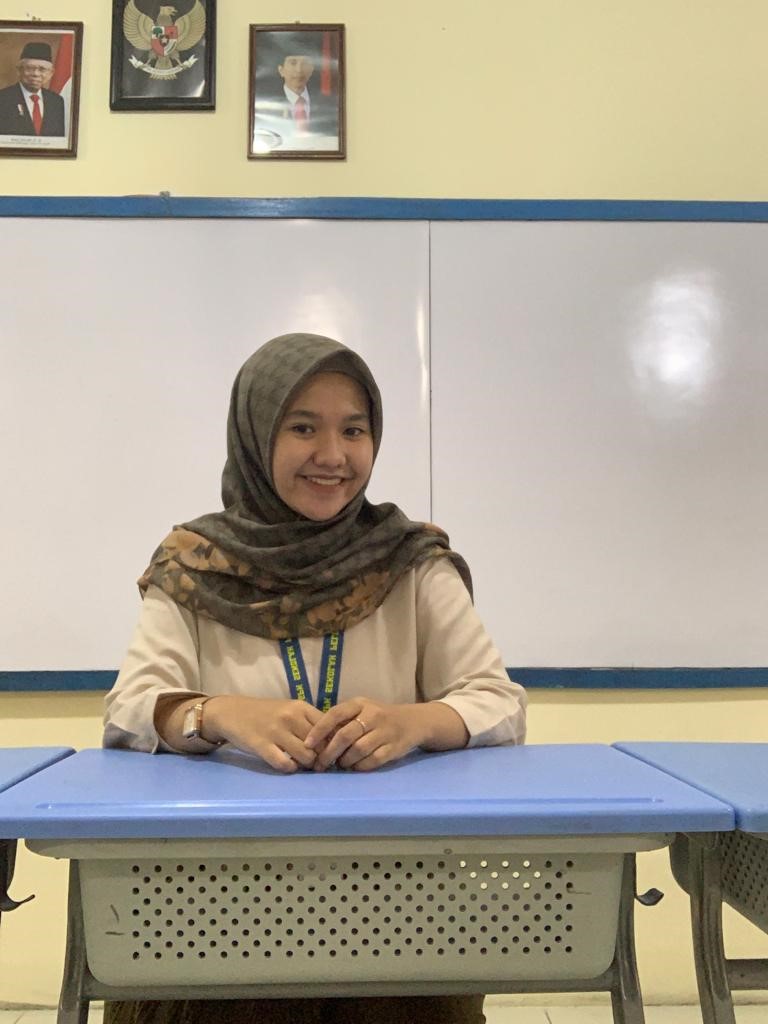 Getting a job right after graduating from college is the dream of every student, but not all have the same opportunity, destiny, and time. One of the interesting stories comes from the 2021 Universitas Islam Indonesia (UII) English Language Education graduate, who immediately got a job at an international education institution after graduation. She is Laelah Al Mubarokah, a young teacher at Pelita Bangsa School, Cirebon, West Java. This school is a pioneer of the Cambridge international school in Cirebon that applied either national or international curriculum.
Laelah had the opportunity to be a fourth-grade teacher by teaching three subjects, including Information and Communication Technology (ICT), science, and Global Perspective. After she was accepted as a teacher, she truly struggled. It is because she graduated from English education, but she had to teach three subjects beyond her background. Therefore, she had to learn and start from scratch. In addition, the more challenging part is that because the students are categorized as highly motivated and diligent. They often ask questions that she did not expect previously. Laelah once said, "I know the answer, but it feels difficult to simplify the answers so that it is easier to understand."
She felt a tough challenge in the first and second months of being a teacher because the school treated her to follow international standards at the school. Meanwhile, she was still carried away by the habit during her undergraduate. Further, everyone here works with high expectations. It makes her put more effort into understanding and adjusting to the school's culture. She even felt down with high expectations from schools, teachers, and parents of students. Gratefully, in this sixth month, she got used to the school's study habits and successfully adapted to the work environment.
On the other hand, she felt happy and grateful because the transition from undergraduate to work was relatively faster than others. Besides, she was surrounded by open-minded, respectful, and appreciative people. In addition, she found it challenging because 50% of the educators at school are expatriate teachers. Thus, her mindset, teaching skill, and behavior are required to follow international standards.
Laelah believed that she could thrive in that environment well. She hoped not to be complacent with her current achievements. She also advised that working in any field has challenges, so never stop learning, adapt to the environment, be open-minded, and accept criticism.
https://pbi.uii.ac.id/wp-content/uploads/2021/12/The-Grumbling-Warrior.jpg
1024
768
admin_pbiuii
https://pbi.uii.ac.id/wp-content/uploads/2017/10/logo-header-300x101.png
admin_pbiuii
2021-12-16 04:13:26
2021-12-16 04:13:26
The Grumbling Warrior An Inspirational Story from a Young Teacher Teaching in International School