written by Afni Febriani Muzdalifah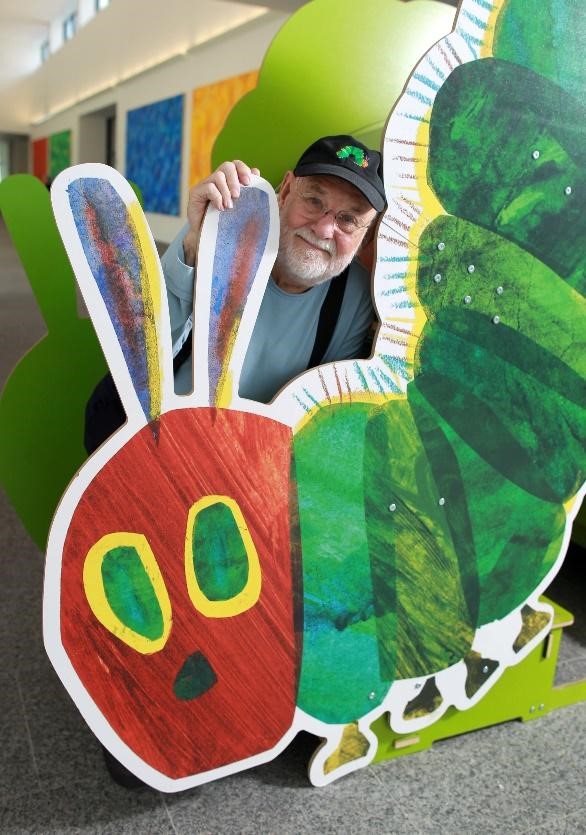 The world of literacy and art is just grieving the loss of one of the authors and illustrators of the famous children's book "The Very Hungry Caterpillar", Eric Carle. Who does not know one of the writers and illustrators who has brought color and light to children in the world by bringing their very colorful and cheerful works. Eric Carle has created many illustrated stories that have become very famous around the world. Art helped Eric Carle create something that cannot be described in words. Eric Carle wrote stories for children in 70 books during his lifetime in bright, catchy colors as well as cheerful words.
One of his most famous works, "The Very Hungry Caterpillar" tells the story of a caterpillar who is always hungry even though he has eaten a lot of food such as fruit, cakes, Swiss cheese, ice cream, salami, and various other foods until he got stomach ache which turns out to be part of the process of becoming a cocoon, then a beautiful butterflies. On the 50th anniversary of his book in 2019, Eric Carle said that he hopes for young readers who are afraid or doubtful about the future life to be patient and believe that someday they can grow and fly with the talents we have, "You — little insignificant caterpillar — can grow up into a beautiful butterfly and fly into the world with your talent."
Eric Carle was born in Syracuse, New York, United States on June 25, 1929 and died on May 23, 2021. Eric Carle's childhood was arguably not as beautiful as his works. When Carle lived in Germany, he was a Russian prisoner of war.  Even so, he finished school and continued his graphic arts education at the Akademie der bildenden Künste in Stuttgart and successfully graduated in 1950. In 1952, Eric Carle moved back to New York City with only 40 U.S. dollars in his pocket and worked as a graphic designer at The New York Times until he enrolled in the U.S. Army when the Korean war happened.
Eric Carle began his career as an illustrated story writer. When he met children's story writer Bill Martin, Jr. In 1967 they published their first collaboration entitled "Brown Bear, Brown Bear, What Do You See?" In 1968, he published a self-written illustration book entitled "1, 2, 3, to the Zoo". The following year, he wrote "The Very Hungry Caterpillar" and it was the award-winning book which made him famous. Eric Carle received many awards and honors, including the Officer's Cross of the Order of Merit of the Federal Republic of Germany (2001), the Laura Ingalls Wilder Award from the Association for Library Service to Children of the American Library Association (2003), the NEA Foundation Award for Outstanding Service to Public Education (2007), and the Original Art Lifetime Achievement Award from the Society of Illustrators, New York (2010).
In 2002, Eric Carle and his wife opened the Eric Carle Museum of Picture Book Art which contains works by Eric Carle and features work of children's book illustrators from around the world in Amherst, Massachusetts. Some of his books have also been published into animated films which can be found on the "Illuminated Films" Youtube channel. Maybe we are ever wondering how Carle illustrates his book. Carle used tissue paper collage technique to illustrate more than 70 books to create bright colored pictures. He also teaches us how to use tissue paper technique on his website.
Eric Carle always receives hundreds of letters from his young readers because he always understand children's feelings, thoughts, and emotions. One of the reasons for his success, besides his unique artwork, is because his readers always tend to relate their life and experiences with his stories and always inspire other illustrators.
https://pbi.uii.ac.id/wp-content/uploads/2021/06/Eric-Carle-the-One-Who-Brings-Color-and-Light-Into-Our-Childhood..jpg
835
586
admin_pbiuii
https://pbi.uii.ac.id/wp-content/uploads/2017/10/logo-header-300x101.png
admin_pbiuii
2021-06-06 11:25:07
2021-06-09 03:07:50
Eric Carle, the One Who Brings Color and Light Into Our Childhood.